"The One whom we adore as the Mother is the divine Conscious Force that dominates all existence, one and yet so many-sided that to follow her movement is impossible even for the quickest mind and for the freest and most vast intelligence."
– Sri Aurobindo (CWSA, 32:14)
Sri Aurobindo once wrote to a disciple that "those who want to progress quickly, welcome even the blows of Mahakali because that pushes them more rapidly on the way" (CWSA, Vol. 32, p. 353). With Progress as our theme for this issue, a feature on the Mahakali Aspect of the Divine Mother seems most befitting.

READ MORE HERE.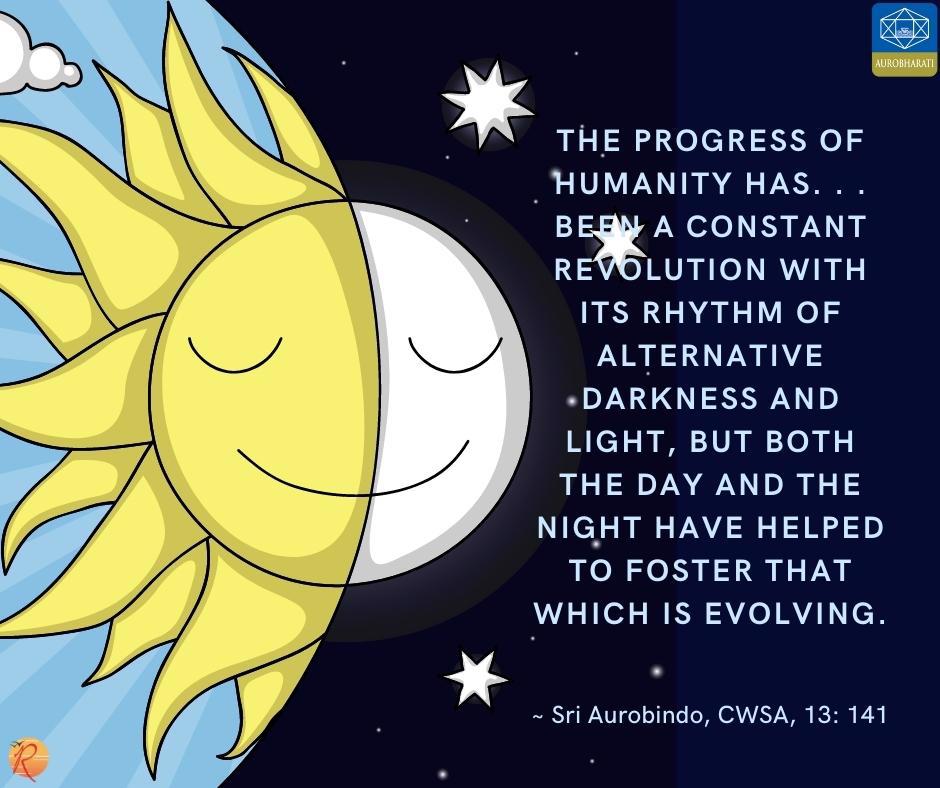 Like many other words these days, the word 'Progress' too has often been narrowly or even wrongly used, misused or misunderstood. While it is true that essentially everything is progressing toward its hitherto-unknown but its inevitable destiny, this progress is not generally in a straight line. It is full of pauses, detours and also phases of what may appear as movement in the reverse direction. But that is the way of Life and Nature.
A certain turn of intellect with its eye glued only toward the future considers progress as the only truth, and also has its own definition and ideas of what progress looks like. Another turn of the intellect is mesmerised by all that was glorious in the past and wants to conserve and preserve all of that, even when recognising that change is inevitable. Often reflected as a conflict between tradition and modernity, at its core this is about how past, present and future are not seen as integral and inseparable parts of a single movement of progress.
READ MORE HERE.
The Mahakali aspect is also our guide for the Insightful Conversations feature this month. We speak with Saiswaroopa Iyer about her journey as a writer of engaging with women from our Purāna-s and Itihāsa-s, especially the warrior queens.
CLICK HERE FOR MORE.
Tales and Stories (clickable link):
Book of the Month (clickable link):
Special for Youth & Teachers (clickable link):
Continuing Series (clickable links):
Sri Aurobindo Circle Archives (clickable links):
Coming up in our Special Lecture Series
(Special offering for Auroville Foundation Day)
For feedback and suggestions, write to us: <aurobharati@aurosociety.org>
Our next issue releases on March 21, with special focus on Courage.
~ Click the red bell button at journal.aurobharati.in to subscribe
~ Share this newsletter with your friends and work toward Renaissance!
|